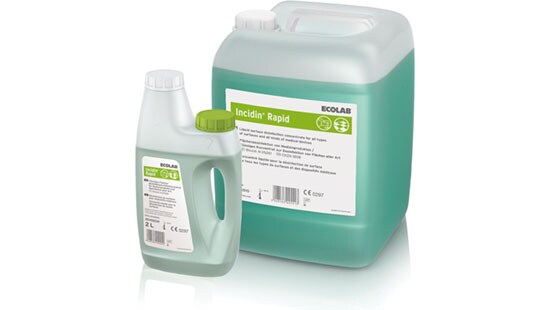 Incidin™ Rapid
Highly efficient liquid concentrate for the surface disinfection of medical products and surfaces of all types. Virucidal effectiveness, also at standard concentrations. Bactericidal, yeasticidal, virucidal as per RKI recommendation of 01/2004 (DVV 2008) as well as sporicidal against C. Difficile.
Product Details
Broad spectrum of effectiveness against bacteria, yeasts and viruses, and effective against Clostridium difficile.
High level of disinfection safety on all washable surfaces, especially in risk areas.
Selected agent composition
Broad-spectrum effectiveness
Extremely low application concentration
Rapid effect
| Our performance | Your advantage |
| --- | --- |
| Selected agent composition | Safe disinfection, also at low application concentrations |
| Broad-spectrum effectiveness | Virucidal effectiveness also at standard concentrations - no change in product is necessary for C. diff. |
| Extremely low application concentration | Economical in daily use too |
| Rapid effect | Fast turnaround is possible |
Prepare application solution by diluting with water (max. 30 °C) to the desired concentration.
Wipe down the surfaces to be treated so that they are wet. Make sure of even coverage of wetness.
Protective gloves must be worn as per UVV.
Disinfectants containing amine or amine derivatives cannot be used alternately with disinfectants containing aldehyde.
Thorough interim cleaning is required for any switch.
Use biocides with caution.
Always read the certification marking and the product information before use.
100g contains as agents:
9.8g glutaral, 5g benzalkonium chloride, 5g didecyldimethyl­ammonium­chloride
Use (after commencement)
Shelf life

 

in container1

 

until the printed expiration date

 

in the container on the dispenser

 

until the printed expiration date

 

in the container with a dispensing aid

 

until the printed expiration date

 

As a prepared application solution2

 

up to 14 days

 

as a prepared application solution in combination with Incidin™ Premium Wipes in the Incidin™ Dry Wipes Dispenser3

 

up to 28 days
1
Please note the following to ensure the correct storage of environmental hygiene and instrument disinfectants: The original containers (canisters, buckets or bottles) with the disinfectant concentrate (or powder) should be stored at temperatures below 25°C and kept dry and clean. A brief period below or above the given storage temperature (e.g. during transport) will not diminish the effectiveness.
The containers are to be sealed tightly after each use. Please also take care that the concentrate remaining in the container is not contaminated when preparing the application solution.
2
Assuming that the application solution that is produced is not contaminated by organic material, it is to be stored in a clean, closed container or a covered instrument basin.
Please take note of the corresponding marking on the containers in which the disinfectant solutions are kept, e.g. contents, concentration, date, shelf life and batch number. Used and organically contaminated solutions are to be changed at least once per workday as per RKI recommendation.
3
A stability time of up to four weeks can be confirmed for the previous products and application concentrations of the same products, provided they are used in accordance with our instructions for use and recommendations.
Comment: Wipes that have been soaked in the disinfectant solution should not be used for any longer period of time. Frequent opening and closing of the container or unintentionally leaving the wipe dispenser open may lead to the evaporation of volatile substances, resulting in a change in the agent concentration.
VAH-listed Effective against norovirus
---
Surface disinfection for medical products

0297

---
Disinfectant concentrate for the disinfection of surfaces of any type.


---
Use biocides with caution. Always read the label and product information before use.