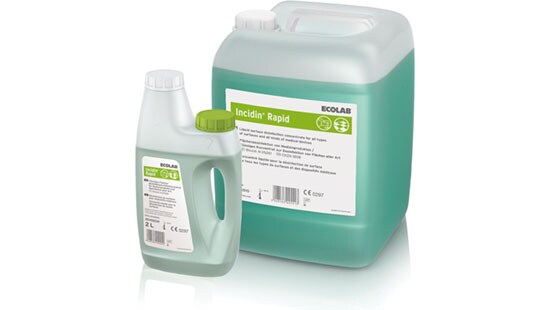 Incidin™ Rapid
Highly efficient liquid concentrate for the surface disinfection of medical products and surfaces of all types. Virucidal effectiveness, also at standard concentrations. Bactericidal, yeasticidal, virucidal as per RKI recommendation of 01/2004 (DVV 2008) as well as sporicidal against C. Difficile.
Product Details
Broad spectrum of effectiveness against bacteria, yeasts and viruses, and effective against Clostridium difficile.
High level of disinfection safety on all washable surfaces, especially in risk areas.
Selected agent composition
Broad-spectrum effectiveness
Extremely low application concentration
Rapid effect
| Our performance | Your advantage |
| --- | --- |
| Selected agent composition | Safe disinfection, also at low application concentrations |
| Broad-spectrum effectiveness | Virucidal effectiveness also at standard concentrations - no change in product is necessary for C. diff. |
| Extremely low application concentration | Economical in daily use too |
| Rapid effect | Fast turnaround is possible |
Please see sell sheet for ordering information.