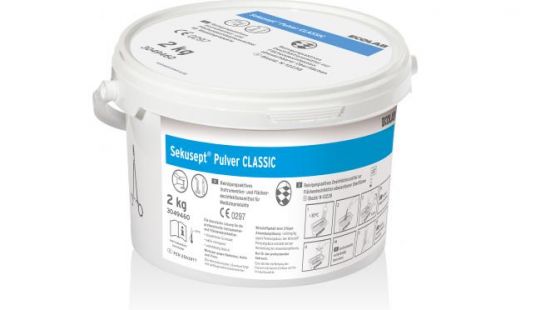 Sekusept™ Pulver CLASSIC
Can be used for the disinfection of instruments and environmental hygiene. Easily soluble powder: Effective against bacteria and yeasts Virucidal according to RKI recommendation of 01/2004 (DVV 2008).
Product Details
Can be used for disinfection of instruments and environmental hygiene
Powerful formulation
Broad-spectrum effectiveness
Effective environmental hygiene and instrument disinfection
| Our performance | Your advantage |
| --- | --- |
| VAH-listed and certified | Standardized safety for the user and patients |
| Broad spectrum effectiveness against bacteria, yeasts, enveloped and un-enveloped viruses (including against norovirus) | Highest performance in disinfection of instruments and environmental hygiene |
| Powerful active cleaning agents | Short contact times, low dosing |
| Good material compatibility | Also suitable for reprocessing of polycarbonate, Plexiglas (PMM A), polysulfone and all stainless steel instruments. Also suitable for disinfection of surfaces that can be wiped |
Application Areas
For cleaning disinfection of medical instruments made of metal, plastic, elastomers, glass etc. Also for disinfection of prostheses (dental) and for disinfection of incubators and tubs for medical baths. Not suitable for flexible endoscopes and instruments made from aluminum or with chrome plated or nickel plated surfaces.
Usage
Prepare the solution in water of at least drinking water quality. When preparing the solution, stir powder in water at about 25°C, stir frequently. After 15 minutes, the solution is ready for use: Place the instruments in the solution immediately after use, ensuring that all surfaces are completely wetted. Clean the instruments following the manufacturer's instructions, including the mechanism (e.g. brushing, wiping). After the specified contact time, remove the objects from the liquid and rinse with water of at least drinking quality. In the case of terminal disinfection, subsequently place in new application solution and observe the virucidal contact time. The used solution is to be changed at least on every working day, in the case of heavier stains, change it more frequently.
| Use | Shelf life |
| --- | --- |
| In opened container1 | Until the printed expiration date |
| As a prepared application solution2 | The same workday |
1
Please note the following to ensure the correct storage of environmental hygiene and instrument disinfectants: The original containers (canisters, buckets or bottles) with the disinfectant concentrate (or powder) should be stored at temperatures below 25°C and kept dry and clean. A brief period below or above the given storage temperature (e.g. during transport) will not diminish the effectiveness.
The containers are to be sealed tightly after each use. Please also take care that the concentrate remaining in the container is not contaminated when preparing the application solution.
2
Assuming that the application solution that is produced is not contaminated by organic material, it is to be stored in a clean, closed container or a covered instrument basin.
Please take note of the corresponding marking on the containers in which the disinfectant solutions are kept, e.g. contents, concentration, date, shelf life and batch number. Used and organically contaminated solutions are to be changed at least once per workday as per RKI recommendation.
Composition
Sodium percarbonate, phosphate, non-ionic surfactants
The active substance peracetic acid is generated in the application solution.
A 2% solution contains > 600mg/l (ppm) peracetic acid.
---
Disinfectant for medical devices

0297

---
Disinfectant concentrate for the disinfection of surfaces of any type.


---
Use biocide products with caution. Always read the label and product information before use.