PFLICHTTEXT
Skinman® complete Lösung zur Anwendung auf der Haut.
Zusammensetzung: 100 g der Lösung zur Anwendung auf der Haut enthalten 95,7 g denaturierten Ethanol 96 % v/v (entsprechend 89,0 g Ethanol). Die sonstigen Bestandteile sind: Vergällungsmittel: Butan-2-on (1 % v/v); Macrogol-6glycerolcaprylocaprat, Milchsäure (90 %), Parfümöl 99-6616 (enthält Orangenöl mit mehr als 90 % Limonen), gereinigtes Wasser.
Anwendungsgebiete: Skinman® complete ist ein alkoholisches Desinfektionsmittel  für die hygienische und chirurgische Händedesinfektion. 
Gegenanzeigen: wenn Sie überempfindlich (allergisch) gegen denaturierten Ethanol (96 %) oder einen der sonstigen Bestandteilen von Skinman® complete sind. 
Nebenwirkungen: In seltenen Fällen kann Skinman® complete Hautirritationen wie Rötungen und Brennen sowie Kontaktallergien auslösen. Alkoholhaltige Händedesinfektionsmittel können die Haut austrocknen und Hautirritationen, besonders bei geringer Luftfeuchtigkeit (z.B. im Winter), hervorrufen.   
Warnhinweise: Nur zur äußerlichen Anwendung. Skinman® complete ist leicht entzündlich (Brand- und Explosionsgefahr). Nach Verschütten des Desinfektionsmittels sind sofort folgende Maßnahmen zu treffen: Aufnehmen der Flüssigkeit, Verdünnen mit viel Wasser, Lüften des Raumes sowie das Beseitigen von Zündquellen. Produkt von offenem Feuer fernhalten. Vor Anwendung elektrischer Geräte Produkt antrocknen lassen. Vorsicht bei Anwendung von Skinman® complete bei alkoholempfindlichen oberflachen. Nicht in der Nähe der Augen, auf verletzter Haut oder auf Schleimhäuten anwenden. Spülen Sie bei unbeabsichtigtem Kontakt mit den Augen oder Schleimhäuten sofort mit viel Wasser (im Falle der Augen auch unter den Augenlidern). 
Stand: 06/2016
Ecolab Deutschland GmbH, Ecolab-Allee 1, 40789 Monheim am Rhein.
Skinman™ Complete
The virucidal alcohol hand disinfectant for daily use. It's particularly skin-compatible. Limited virucidal (incl. HIV, HBV, and HCV) and virucidal (incl. noro-, rota-, and parvoviruses according to RKI recommendation 01/2004. Free of coloring agents and particularly skin-compatible. RKI-listed (A).
Product Details
Skinman™ complete offers high protection against virus-induced infection risks. The excellent skin compatibility and acceptance even when used frequently represent a new dimension of modern hand disinfection.
Virucidal according to RKI
Particularly skin-compatible
Free of coloring agents
Our Performance
Your Advantage
Broad spectrum efficacy:


• bactericidal (incl. TB and MRSA*)




• yeasticidal




• limited virucidal (incl. HIV, HBV, HCV)




• virucidal according to RKI recommendation




(This includes effectiveness against adeno-, 




rota-, and noroviruses.)




• High protection for every day
• Protection against viruses
• Alcohol hand disinfectant for clinic and office

Optimally matched skin protection components

• Excellent skin compatibility


• Suitable as a daily alcohol hand disinfectant



Quick effectiveness

• High protection with short contact times

* for its bactericidal qualities
Application Area
For hygienic and surgical hand disinfection.
Usage
Rub Skinman™ complete undiluted into dry hands. The hands must be kept moist during the entire exposure time.
Ecolab's alcohol hand disinfectants for hygienic and surgical hand disinfection are approved as a medicinal product in Germany.
Within the framework of the approval process for medicinal products, strict requirements are placed on tests on the shelf life of the products.
Part of the tests are long-term stability studies as well as tests on the shelf life after the opening of the original container, which pursuant to Guideline CPMP/QWP/2934/99 must have a practical study design. The stability of our products was thus tested after repeated opening and closing of the containers and the stability in the wall dispenser was also determined. Information on the shelf life as well as the respective shelf life after opening of the products can be found in the product identification.
As a rule, the expiration date is printed in the immediate vicinity of the batch number. Information on the shelf life after opening can be found in the text of the package information under "Instructions and information on the storage of the medicinal product", e.g. "Shelf life after opening 6 months."
For our alcohol hand disinfectant Skinman™ complete, the following shelf life after opening applies: 12 months
Products that after opening are used in a wall dispenser are of course not completely closed, so that external influences such as temperature and air circulation in the environment can lead to the alcoholic active substances gradually evaporating.
Results from studies confirm a shelf life of our hand disinfectants in wall dispensers of 6 months.
Active ingredient in 100g of product:
95.7g denatured ethanol 96% (v/v) (corresponding to 89.0 g ethanol). 
The other ingredients are: Denaturant: Methyl ethyl ketone (1% v/v), Macrogol-6-glycerol caprylocaprate (Ph. Eur.), Lactic acid, perfume (contains orange oil with more than 90% limonene), purified water.
Effective Against
Norovirus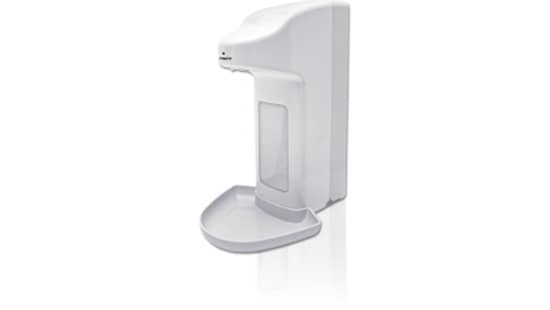 Cleaning and Disinfection Products for Healthcare Facilities