PFLICHTTEXT
Skinman® soft Lösung zur Anwendung auf der Haut.
Zusammensetzung: 100 g Skinman® soft enthalten: Wirkstoffe: 60 g 2-Propanol, 0,15 g Benzalkoniumchlorid, 0,1 g Undecylensäure. Sonstige Bestandteile: Tetradecan-1-ol, Glycerol 85 %, Geruchsstoffe, Patentblau V (E 131), gereinigtes Wasser. 
Anwendungsgebiete: Hygienische und chirurgische Händedesinfektion. 
Gegenanzeigen: Nicht für die Antiseptik von Schleimhäuten geeignet. Nicht in unmittelbarer Nähe der Augen anwenden. Überempfindlichkeit gegen Inhaltsstoffe. Bei sachgemäßem Gebrauch kann Skinman® soft während der Schwangerschaft und Stillzeit verwendet werden.
Nebenwirkungen: Benzalkoniumchlorid kann Hautreizungen hervorrufen. Kontaktreaktionen sind möglich. 
Vorsichtsmaßnahmen für die Anwendung: Entzündlich! Nicht in Flammen sprühen. Flammpunkt (n. DIN 51755): 22 °C. Kontakt mit den Augen unbedingt vermeiden. Bei versehentlichem Kontakt des Arzneimittels mit den Augen sofort mit viel Wasser (auch unter den Augenlidern) mindestens 15 Minuten spülen. Auf Kontaktlinsen prüfen und falls vorhanden entfernen. Ärztliche Hilfe hinzuziehen, wenn die gesundheitlichen Beeinträchtigungen anhalten oder schwerwiegend sind. Art der Anwendung und Sicherheitsregeln beachten. Vor Anwendung elektrischer Geräte Produkt antrocknen lassen. Vorsicht bei alkoholempfindlichen Oberflächen.
Stand: 06/2013
Ecolab Deutschland GmbH, Ecolab-Allee 1, 40789 Monheim am Rhein.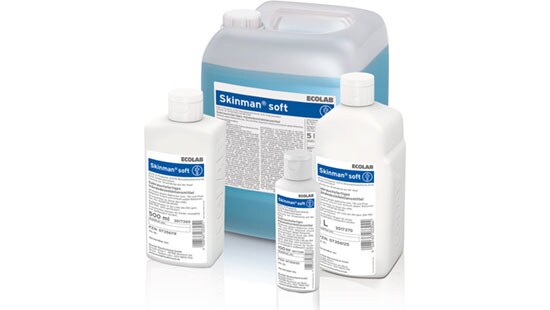 Skinman™ soft
For hygienic and surgical hand disinfection. Combines skin-friendly hand disinfectant and skin care. Effective against bacteria (incl. TB) and yeasts Limited virucidal according to RKI recommendation 01/2004 (incl. HIV. HBV and HBV) and effective against Rota viruses. RKI-listed (A).