PFLICHTTEXT
Skinsept® mucosa Lösung. 
Zusammensetzung: 100 g Skinsept® mucosa enthalten: Wirkstoffe: 10,4 g Ethanol (96%), 1,67 g Wasserstoffperoxid-Lösung (30 %), 1,50 g Chlorhexidinbis(Dgluconat)-Lösung (20 %). Sonstige Bestandteile: Milchsäure, Macrogolglycerolhydroxystearat, Povidon, Geruchsstoffe, Natriumhydroxid, gereinigtes Wasser.
Anwendungsgebiete: Schleimhautantiseptikum für die Behandlung von oberflächlichen Schleimhäuten und angrenzender Haut im Vaginalbereich, Glans penis, Orificium urethrae externum, wenn eine Keimzahlvermindung erforderlich ist, und im Mund- und Rachenraum.
Gegenanzeigen: Skinsept® mucosa darf nicht angewendet werden wenn Sie überempfindlich (allergisch) gegen die Wirkstoffe Ethanol (96 %), Wasserstoffperoxid-Lösung (30%), Chlorhexidinbis(D-gluconat)-Lösung (20 %) oder einen der sonstigen Bestandteilen sind. Nicht anzuwenden bei Säuglingen und Kinder wegen bisher fehlenden Erfahrungen. Nicht auf großflächigen Wunden, am Auge und im Ohr anwenden. Zur oralen Anwendung bei Alkoholkranken aufgrund des Ethanol-Gehaltes nicht geeignet. Skinsept® mucosa sollte nicht in der Bauchhöhle (z.B. intraoperativ) und auf Nasen- und Bronchialschleimhäuten angewendet werden.
Nebenwirkungen: Selten (1 bis 10 Behandelte von 10.000) treten Urtikaria und allergische Reaktionen bis zum anaphylaktischen Schock auf. Häufig (1 bis 10 Behandelte von 100) können irritative Hautreaktionen und Kontaktdermatitis auftreten. Gelegentlich (1 bis 10 Behandelte von 1.000) ist leichtes Brennen möglich. Verätzungen der Haut wurden bei Neugeborenen und Säuglingen für chlorhexidinhaltige Produkte beobachtet (Häufigkeit unbekannt). Vorübergehende Geschmacksbeeinträchtigungen können in seltenen Fällen auftreten. Reversible Verfärbung der Zähne, Zunge und Mundschleimhaut wurde bisher nicht beobachtet, sind jedoch für chlorhexidinhaltige Präparate bei längerfristiger Anwendung beschrieben.
Warnhinweise: Das Arzneimittel enthält 12,4 Vol.-% Ethanol. Skinsept® mucosa ist nur äußerlich anzuwenden.
Stand: 11/2012
Ecolab Deutschland GmbH, Ecolab-Allee 1, 40789 Monheim am Rhein.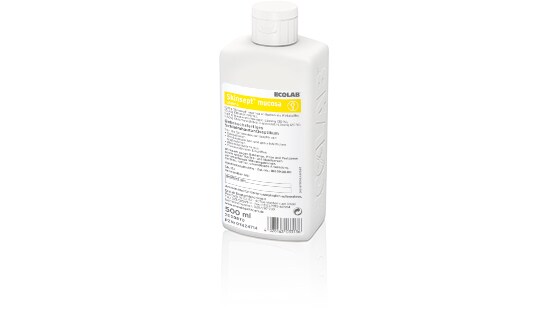 Skinsept™ mucosa
Chlorohexidine based antiseptic for mucous membranes. Comprehensive spectrum efficacy against bacteria, fungi and certain viruses e.g. effective against HIV and Herpes Simplex Virus type 2. For mouth and pharynx decontamination with MRSA colonized patients.