Protecting Our People and Customers During the COVID-19 Pandemic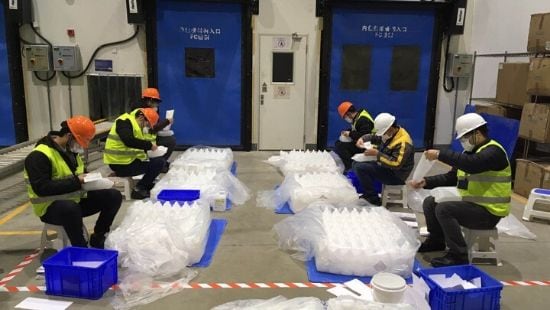 Limiting the spread of COVID-19 is the top priority for our communities, our businesses and our governments around the globe. At Ecolab we're focused on doing our part to flatten the curve and limit the spread of this disease by providing solutions and expertise that protect essential workers in our operations and yours.
For us, this work means helping hospitals remain safe and clean places of care. It means enabling operations for facilities that make life-saving medicines and food and beverage products that are needed to keep store shelves stocked. And it means supporting the critical infrastructure that we all depend on – from data centers, to power plants, to water-treatment facilities.
And despite the public health crisis facing us, we continue that work – from our homes, or at one of our labs, offices, manufacturing facilities or at a customer site -- to help make sure our customers get the products, services and expertise they need.
As more than 1.5 billion people worldwide are now being asked to stay at home, we're taking steps to protect our associations and your business, and we've taken a number of additional measures to keep our people and customers safe during this pandemic.
Protecting Our Team
The health and safety of our employees is our top priority and critical for our ability to support our customers and the frontline workers helping combat this global pandemic. To help protect our employees and their families, we've established rigorous protocols to guide decision-making as we serve our customers and reinforced safe practices such as proper handwashing and social distancing.
Wherever the coronavirus is an active issue, we're requiring all employees who can work from home to do so. Those who self-identify as high risk as defined by the Centers for Disease Control are also required to work from home. We have clear and stringent protocols regarding exposure to COVID-19. If an associate has had contact with an infected person, even if they are symptom-free, they must self-isolate for 14 days and cannot return to work until they are symptom-free.
Working On-Site Safely
Some employees' jobs require them to be on-site providing essential service at a customer location, or one of our facilities. To help protect these employees, we've increased the frequency and thoroughness of our cleaning and hygiene protocols in our facilities, and taken other steps like closing certain communal areas within them. We work to create maximum social separation to reduce individual and collective risk. And, we've worked to provide barrier (face) masks to all our employees working in our manufacturing facilities to reduce transmission risk. To make sure that our employees do not feel compelled to come to work when they aren't feeling well, we've expanded our healthcare benefits and sick pay provision and have launched a pay protection program for our teammates whose pay will be dramatically affected by the pandemic because of reduced customer demand for products and services.
For sales and service employees who work in the field, servicing essential businesses at their sites, we've developed more specific safety guidance and workplans to help them stay safe and protect the health of our customers' operations. This includes engaging first with their managers and our Safety, Health & Environment team before working in quarantined spaces and locations, following local guidelines and customer protocols regarding the use of PPE, prohibiting travel between markets and limiting travel within markets. Employees also can exercise their right to stop work any time they feel unsafe about work conditions.
Meeting an Urgent Need, Safely
By taking care of our people, we protect our ability to serve our customers. And no matter what sector our customers work in, we know they count on our products and expertise so their workers can do their jobs.
We know we have a vital responsibility right now to deliver the products our customers need to keep their critical operations running. But we also know we must operate in a way that keeps our employees and our customers as safe as possible.
We are confident the actions we've taken to date have been effective, and we'll continue to monitor and adjust them as necessary. We'll also continue to work side-by-side with our customers as a trusted partner to support them. To be sure, these are difficult times. And as we've done in the past, we will overcome this new challenge together.
To learn about how you can protect your employees and customers, please visit our web page offering Ecolab's guidance and expertise for combating the virus.