The Forgotten Spots of Open Plant Cleaning
Tips for overlooked areas of Open Plant Cleaning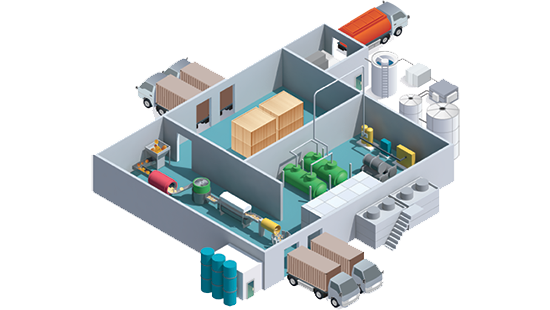 A strong Open Plant Cleaning (OPC) program is critical to any food production facility, where all surfaces and equipment should be cleaned and even disinfected, if needed, before a new production cycle.
Do you often worry about a persistent listeria issue? Or, do you wish your facility was cleaner to drive stronger employee engagement and commitment to your food safety culture program? If so, these tips are for you .
OPC programs can positively impact many areas. Most critically, the program reduces pathogens and spoilage microorganisms in the facility but can also improve food safety culture and pride in the workplace. Just like at home, nobody wants to show their guests a dinner cooked in a dirty kitchen.
An effective OPC program must encompass areas where product is both in direct contact with surfaces and at high risk from indirect contact or cross contamination.
Consider including the following areas, which are often overlooked:
Floor structure and condition – Porous floors or tile grout and cracked epoxy or tiled floors.
Equipment – Should have a strong hygienic design and be easily accessible. If it is not seen or accessible, then it can't be cleaned.
Building Construction – Older facilities can be built with materials that are no longer acceptable. These materials require careful management to ensure they do not become or contribute to being a product contaminant.
Frequent Touch Points – Door handles, tools, equipment keyboards or controls, etc. must all be cleaned regularly because they can become "harbourage sites", i.e. a shelter, and lead to cross contamination.
A strong OPC program is based on an appropriate validation, depending on the surface type to ensure a surface is cleanable within the defined requirements. Validation sets the requirements and ensures a defined location is cleaned with the correct products, frequency, methods and resources
An effective OPC program relies on validation, a process to review individual areas and define appropriate cleaning requirements, including the right products, frequency, methodology and resources.
This will ensure safe food, productivity, and sustainability to achieve the desired outcomes.
Ask yourself:
When was the last validation of the OPC process?
Do the validation and cleaning documents reflect reality?
Are you achieving the desired results?
Have the employees been appropriately trained, and competency assessed?
These questions are important because they are requirements set by the GFSI auditing schemes (certification programs), like IFS, BRC or FSSC22000 (ISO 22002-1).
The process of determining what you should validate and how, might be complicated. Your food contact surfaces must have a validation of cleaning and regular verification activities. Often, just validating the food contact surfaces is not enough. To achieve the required quality and food safety results and efficiently use resources, a validated program for the surroundings can define exactly what is needed to achieve your desired results. This should be tracked as a Key Performance Indicator (KPI) to ensure your facility goals are met, while balancing cost, sustainability, food safety and quality.
Let's consider the following concepts and some key misses:
Validation Limits – The documented validation must consider reasonable tolerance of day-to-day operation, industry guidelines and consumer use (intended and unintended).
People and Equipment – A successful cleaning process requires time, temperature, chemical concentration, and mechanical energy in a balance. To ensure safe and effective uses of resources, the surfaces need to be hygienically designed with easy access to be successful. If the cleaning is hard to do, it could lead to biofilms or other harbourage areas.
Training – Staff must be trained on the validated cleaning procedures to ensure consistent results. If the results are not consistent this will trigger extra problem-solving activities, extra cleaning, and ultimately higher costs.
Verification Activities – This process supports the validation and confirms that the hygiene process has been carried out effectively. Tangible results, such as microbiological or ATP swabs, are needed for audit and traceability purposes. These results should be trended to identify potential continuous improvement activities. Based on the results there could be a need to revalidate the process.
Monitoring and Reviewing data – A robust testing and monitoring program is key to supplying evidence of an effective cleaning program. This data must be visible and linked to KPIs to ensure follow up and continuous improvement.
Documentation – If the program is not documented, then the activity did not happen. For this reason, it is critical to have a documented cleaning program, records of training and documented verification activities.
Considering these items and other industry guidance1,2,3, the validated program can be designed to ensure your facility is being effective and efficient. If you need help with your OPC validation, the Ecolab Food Safety Technical Excellence team is ready to support.
After you conclude the validation process, you should plan regular verification to ensure the facility continues to meet its goals. You can use appropriate and validated test methods to monitor the process and the facility to ensure the Open Plant Cleaning regime is always functional.
The test methods and tools available to the industry will be discussed in future blogs…
Stay tuned!
Literature/References
Codex Alimentarius Guideline CAC/GL 61 – 2007: Guidelines on the application of general principles of food hygiene to the control of Listeria monocytogenes in foods.
PROFEL: Hygiene guidelines for the control of Listeria monocytogenes in the production of quick-frozen vegetables, 2020;
ANSES, European Union Reference Laboratory (EURL), 2012: Guidelines on sampling the food processing area and equipment for the detection of Listeria monocytogenes;