Statement on Safety and Efficacy of Ecolab Hand Hygiene Solutions
Ecolab is a global leader in infection prevention solutions and expertise. Throughout the world, we provide a broad range of solutions to help reduce the spread of disease, including several hand hygiene products and programs, which helped clean more than 40 billion hands in 2019.
Now more than ever, clean hands are safe hands. According to the World Health Organization and the European Centre for Diseases Control, proper hand hygiene is one of the most effective measures in preventing the spread of infectious diseases like COVID-19. (1)
As supply chains and industries moved to quickly address the increased need for hand hygiene solutions during the COVID-19 pandemic, product quality and safety are top of mind for customers.
Hand hygiene is an important part of the appropriate response to COVID-19. If soap and water are not readily available, the WHO recommends consumers use an alcohol-based hand disinfectant that contains at least 60% alcohol.(2)
Most Ecolab alcohol-based hand rubs (ABHR) contain at least 60% ethanol or 70% isopropyl alcohol (IPA), in accordance to the WHO and national guidelines.
All Ecolab ABHR products distributed in the EU follow Biocidal Product Regulations (BPR) or Medicinal regulations, depending on registrations existing in individual countries and manufacturing plants work to Good Manufacturing Practice (GMP) to ensure quality of the facility and manufacturing process.
Ecolab's range of hand hygiene products are compliant with EN 14476, offering full virucidal efficacy, limited spectrum viricidal activity or activity against enveloped viruses and the corresponding range of efficacy is clearly indicated on the label of every product.
We have taken extensive measures and investment to address continuity of supply and ensure our ability to meet customer demand for critically needed hand hygiene solutions to help combat COVID-19.
Ecolab is committed to helping customers address public health issues such as COVID-19 through comprehensive programs that help reduce the spread of infectious diseases. We help clean 50 billion hands, provide safe medical care for 116 million people each year, thus helping reduce more than 1.7 million infections. Informed by our nearly 100 years of experience in industries such as hospitality, healthcare, manufacturing and education, our hand hygiene solutions are integrated into programs that include consultation, training and service to help keep operations running and patients, staff and people safe and healthy.
Use biocides safely. Always read the label and product information before use For more information regarding our specific programs dedicated to a variety of industry to help protect public health and mitigate the risk of COVID-19 transmission please visit www.ecolab.com/coronavirus.
###
https://www.who.int/infection-prevention/campaigns/clean-hands/WHO_HH-Community-Campaign_finalv3.pdf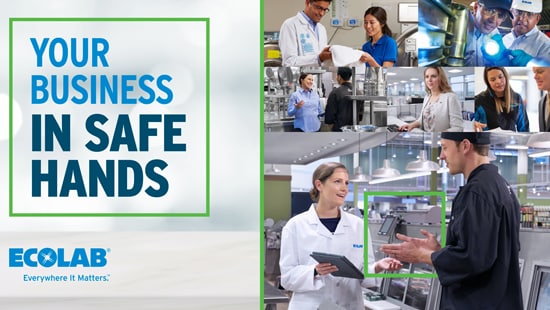 Your Business in Safe Hands