Ecolab Launches Sustainable Maintenance Cleaning Program
MAXX S – High Performing & Highly Sustainable Maintenance Cleaning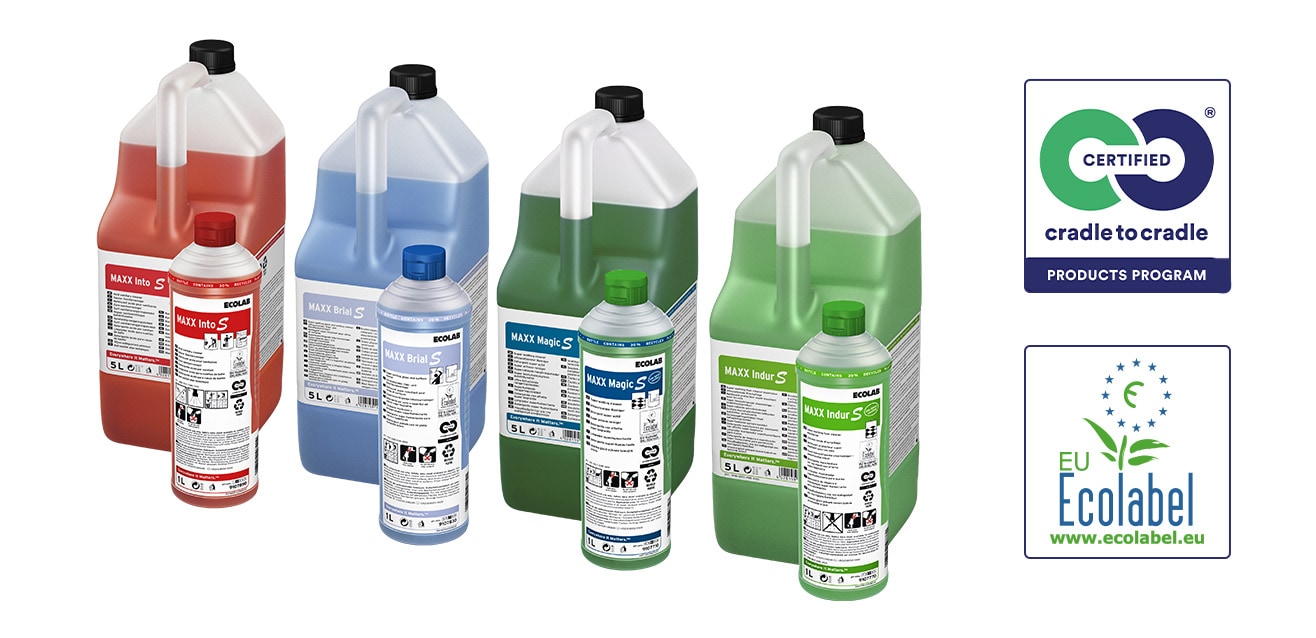 Maxx S products and packaging are cradle to cradle and EU Ecolabel certified.
MAXX S is a range of high performing maintenance cleaners for floor, sanitary and all purpose cleaning. Cradle to Cradle Certified® and under the EU Flower mark, the products come in a 30% post consumer recycled resin (PCR) containing packaging, which allows for high concentrated formulations to achieve low dosing, therefore minimising costs, waste and reduces CO2 emissions due to less transportation of the product.
All products require no hazard labelling, are safer to use and require less Personal Protective Equipment. They are colour coded products for clear usage identification and have excellent material compatibility with the majority of water resistant surfaces. As with all Ecolab solutions the range is supported by personally delivered service through a team of experienced territory managers.
"Sustainability is core to our purpose of making the world cleaner, safer and healthier while protecting people and vital resources", said David McCann, vice president Marketing, Ecolab Institutional Europe.
---
"MAXX S packaging contains a balance of post consumer recycled resin (PCR) and virgin plastic, that enables the delivery of high performance chemistry. This combination ensures outstanding performance at a low use concentration to minimise waste and CO2 Impact".
---
David McCann
Vice President Marketing, Ecolab Institutional Europe
In addition, Ecolab recently announced a power purchase agreement that will support the construction and operation of a five-turbine wind farm on the west coast of Finland. A development which will create renewable energy to cover 100% of the electricity Ecolab uses to power all European sites.
"Our cleaning solutions and their performance remain central to the needs of our customers, and we recognize 'How we manufacture' is an element that customers are conscious of", says McCann.
"While MAXX S is another important contribution to sustainable hygiene, the energy agreement demonstrates Ecolab's wider commitment to addressing sustainability across the entire supply chain. A simple yet further step in aligned with our commitments to 'People and Planet health".
Learn More