Ecolab Named as One of the World's Most Ethical Companies for Commitment to Doing the Right Thing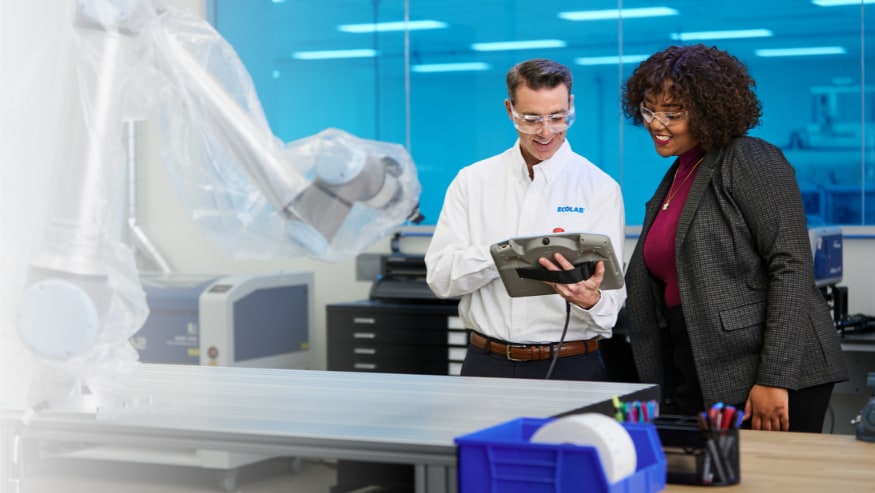 Ecolab associate and client reviewing industry technology at a healthcare facility.
Ecolab Inc., a global leader in water, hygiene and infection prevention solutions and services that protect people and the resources vital to life, has been recognized for its commitment to ethical behavior and business practices. For the 17th consecutive year, the company has been named one of the World's Most Ethical Companies by the Ethisphere Institute, a global leader in defining and advancing the standards of ethical business practices. Being one of only six companies recognized by the Ethisphere Institute annually since 2007, this award is a testament to Ecolab's unwavering dedication to doing the right thing, even under pressure.
"We are honored to receive this recognition, which acknowledges our deep commitment to ethical behavior," said Ecolab Chairman and CEO, Christophe Beck. "Our values are at the core of everything we do, and we are proud to be recognized for our efforts to build trust and credibility with our associates, customers, and other stakeholders."
Ecolab has always been grounded in its values, which include doing what's right, in a fair and honest way. The company's Compliance & Ethics team plays a critical role in upholding these values by providing guidance and support to associates, helping them comply with laws, regulations and company policies.
"As a values-based company with millions of customer locations worldwide, what we do and how we do it matters," said Beck. "Our Code of Conduct and policies and positions help guide us in our work, ensuring our actions align with Ecolab's values. We are committed to doing the right thing, even when it's difficult or unpopular because we know that ethical behavior is critical to our long-term growth and success."
Ecolab's commitment to ethical behavior has not gone unnoticed. The company has received numerous awards and recognition for its efforts, including being named one of the World's Most Admired Companies for the ninth consecutive year and ranking 21st out of 961 companies for America's Most Just Companies. The World's Most Ethical Companies is the latest recognition of the company's ongoing efforts to promote integrity, transparency and accountability in all of its operations.
"We are proud to be recognized for our commitment to ethical behavior. This recognition is a testament to the hard work and dedication of our associates around the world, who embody our values every day."
Christophe Beck