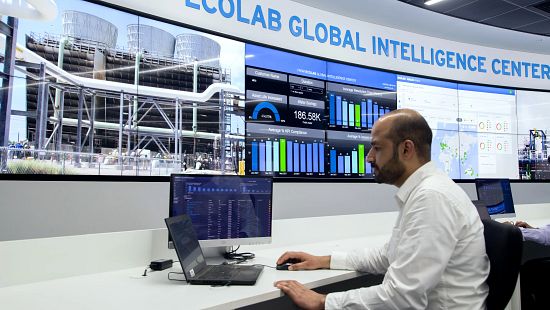 Ecolab Global

Intelligence Center
Visibility, speed and measurable results – these are the business drivers behind digital transformation. Digital solutions built on intelligence platforms, like ECOLAB3D™, give companies the ability to harness data, gather insights, and take informed action. But access to more information challenges companies to navigate an abundance of data so they can create insights to determine actions. The Ecolab Global Intelligence Center is a collective of experts who partner with companies to help cut through the data noise, so they can act fast on the information that matters most.
Intelligence for Impact
As our world faces an escalating climate crisis, businesses face the pressures of producing more using less water and energy. Many have responded by setting ambitious sustainability targets.

At Ecolab, we believe that data access and visibility allow companies to operationalize their sustainability and business goals in tandem. Aligned with this focus, the Ecolab Global Intelligence Center delivers intelligence that makes a positive impact. The team helps companies make sense of their data so they can take concrete steps to accelerate their sustainability journey while still meeting their productivity and profitability objectives.

By serving as the central group of experts who manage our connected chemistries and digital solutions, the team at the Ecolab Global Intelligence Center helps connect companies and communities for a better tomorrow, today.

Connecting Customers and Communities for a Better Tomorrow, Today
With a global hub and spoke network, the Ecolab Global Intelligence Center team delivers secure, personalized service on a regional level with worldwide scale. Experts at six locations serve Industrial, Institutional and Healthcare companies with multi-lingual support and continuous, 24 / 7 monitoring.
By combining digital solutions built on the ECOLAB3D platform with the expertise of the Ecolab Global Intelligence Center, we deliver a connected solution that helps our customers:
Maximize the value of their digital investment with a consultative support team
Make fast, informed and impactful decisions while mitigating risk
Enhance product quality, operational safety and brand protection
Achieve performance, profitability and sustainability goals