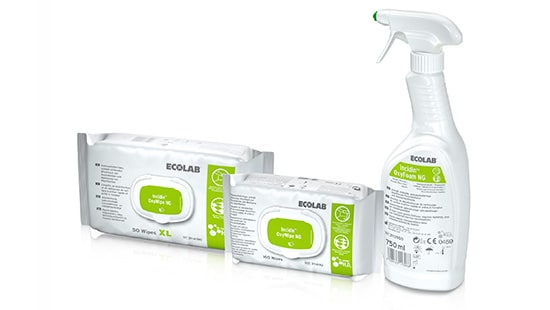 Incidin™OxyFoam NG & Incidin™ OxyWipe NG MD BIO PT2
READY TO USE CLEANING AND DISINFECTION SOLUTION
Product Details
The advanced formulation of Incidin™ OxyFoam NG & Incidin™ OxyWipe NG provides the benefits of patented* hydrogen peroxide solution combined with synergistic effect of Phenoxyethanol results in;
Efficient formula without perfume and dye
Cleaning and disinfection in one step, leaving the surface visibly clean
Formulation based on biodegradable ingredients
Their features make incidin OxyFoam NG and Oxywipe NG suitable for use on a wide range of surfaces in healthcare facilities and an ideal product for intensive care and other high-risk areas.
This enables the products to be used in practice as intended in your protocols, delivering the disinfection results and compliance level mandatory for effective disinfection to restrict the spread of pathogens.
*European Patent EP1987121
PRODUCT
PACKAGING UNIT
ORDER CODE
Incidin™ OxyFoam NG
6 x 750ml

3113950

PZN 18037469

Incidin™ OxyWipe NG

6 x 100 wipes (20 x 20 cm)

3114110

PZN 18037475

Incidin™ OxyWipe NG XL

6 x 50 wipes (25 x 37 cm)

3114190

PZN 18037481

Wall mounted holder for wipe flowpacks (durable Polypropylene)
12 x 1
100 576 86
USE BIOCIDES SAFELY. ALWAYS READ THE LABEL AND PRODUCT INFORMATION BEFORE USE.
---
FOR PROFESSIONAL USE ONLY.