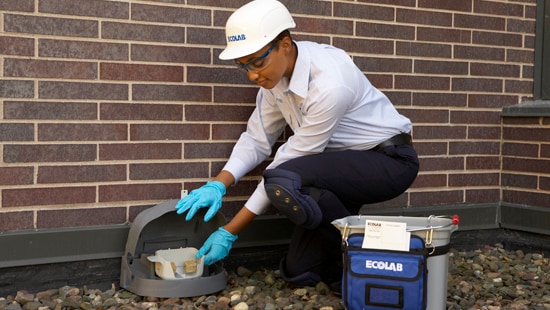 Pest Solutions for Buildings and Facilities
Let Ecolab's Office Protect help keep pests out of your facility and off your mind. As a business owner, the last thing you need to worry about is a pest infestation upsetting your employees, creating unexpected costs and damaging your image to customers and visitors. When you partner with us, our highly trained Service Specialists with help enhance your image by providing a clean, pest-free operation, better manage your operational costs by avoiding surprises and ensure pests don't jeopardise your operation.
Keep Pests Out of Your Facility
Ecolab's OfficeProtect Programme for Buildings and Facilities provides protection against the pests that negatively impact employees, visitors and your company's image.
Working in partnership with you, we protect your office and people from pest nuisance, through rigorous inspections, regular monitoring, and discreet, effective treatments.
The Unique OfficeProtect programme gives you truly comprehensive protection:
Fully inclusive pricing - inspection, monitoring and all monitor boxes included, with no hidden extras
Partnership Guarantee against rodents and cockroaches - your assurance of effective service or one months service refund
Monitoring, inspection and reporting - on the pests that could threaten your business
Anti-static emergency call out service - treatment of static-generating carpets
MyEcolab customer web portal - fast, easy, secure access to service reports
OfficeProtect covers you for all these pests:
Biting insects - inspections internal deter units and treatment
Rats & Mice - inspections, internal monitor boxes and minor proofing
Cockroaches - inspections, treatment of pests and harborage sites to prevent re-infestation
Small Flies - spot treatments supported by practical advice to prevent re-infestation
Garden Ants - targeted applications and residual treatments to eliminate ants
Casual Intruders - monitoring and elimination of Silverfish, Ground Beetles, etc
Recommendations on preventative measures for hygiene and structural issues conducive to pests, and action-driven reporting, after each and every service visit.
Commercial Pest Control Programs, Products, Equipment and Services
Explore our Buildings and Facilities Pest Control and Elimination Offerings
We couldn't find any results for "".