State-of-the-art hygiene at Götsch Catering
Götsch Catering receives the German Bio-Siegel and the EU certification with the help of EcoChexx-Net from Ecolab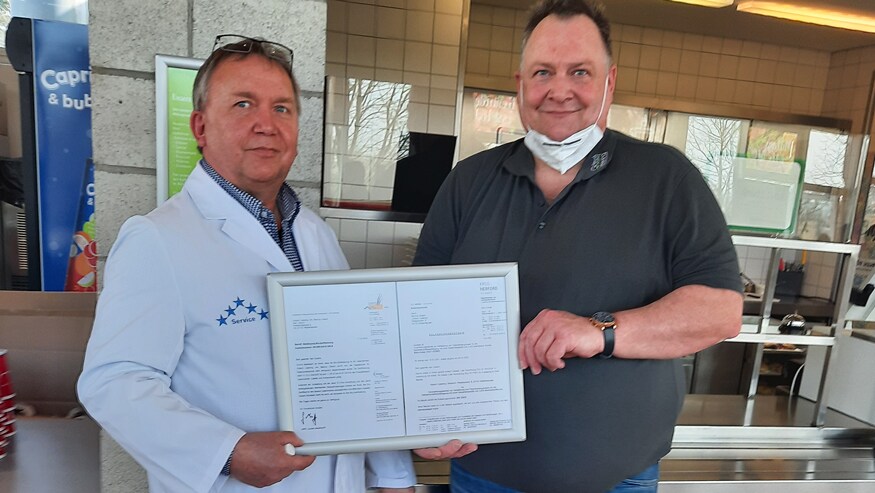 Marcus Götsch, owner of Götsch Catering and Ecolab Territory Manager Food Service Hospitality, Uwe Wilhelm, with the certificates

Marcus Götsch, owner of Götsch Catering and operator of the Haus des Bürgers & Mensa in the Olaf-Palme Gesamtschule in Lippinghausen (NRW, Germany), believes in the equal importance of quality and sustainability. Not only healthy and balanced food with fresh and versatile meals is important to him. He also wants to make the greatest possible contribution to climate protection. 'In future ORGANIC – Good for climate, health and taste' is his credo. Thanks, partly to EcoChexx-Net, Götsch Catering is now the first company in the Herford area (NRW, Germany) to receive the German Bio-Siegel and the legally required EU certification for catering services.
For both certifications it is essential to have a HACCP system in place, tailored to the operation and implemented according to legal regulations. Ecolab was able to support Götsch Catering with a team of experts in this process. Robert Diede, BDSH certified expert for food hygiene and safety and Sales Development Manager Institutional FSH, together with expert consultant Uwe Wilhelm, Ecolab Territory Manager FSH, implemented the web-based solution EcoChexx-Net, which supports the company managers in all requirements of food hygiene and good hygiene practice and helps to fully meet the strict regulations of the EU certification for hygiene and cleanliness in canteens.
On 25 March 2022, Marcus Götsch was able to proudly present his recently received certificates, the German Bio-Siegel and the EU certification on the occasion of the Sustainability Day held at the Olaf-Palme Comprehensive School. In addition to media representatives from the local press, representatives of the public and local politicians, represented by the mayor, also partners were invited. At the Ecolab info-corner Uwe Wilhelm responded all questions from the audience with his broad expertise in hygiene management. In the run-up to the Sustainability Day, Götsch Catering distributed its new Image brochure with a circulation of 1,500 copies in the Olaf-Palme Comprehensive School and in the entire surrounding area. In the brochure "In Zukunft BIO" EcoChexx-Net was also recognized.