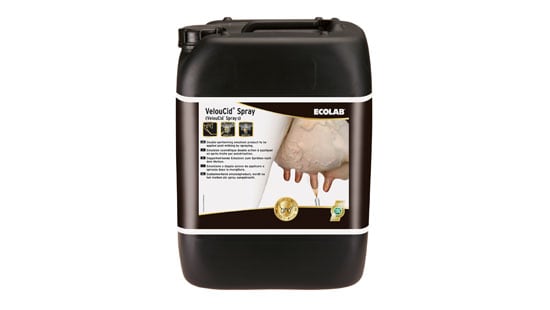 VelouCid™ Spray
Unique sprayable cosmetic emulsion to disinfect and protect teats after milking
Powerful disinfection by iodine
Advanced skin conditioning
Optimal protection during temperatures and during the grazing period
Product DETAILS
PREMIUM FEATURES
VelouCid™ Spray contains iodine, a notified active substance for disinfecting the skin of the teats for veterinary hygiene. This substance contains powerful disinfection and hypoallergenic properties.
EmulsioCare is a true oil-in-water emulsion, enriches and moisturizes the superficial layers of the skin. EmulsioCare gives to VelouCid Spray remarkable dermatological qualities and soothing properties during application.
BENEFITS
The viscosity of VelouCid Spray is adapted for spraying enabling the product to adhere to the skin of the teats and provide excellent coverage. VelouCid Spray enhances and maintains excellent skin condition throughout the year. VelouCid Spray minimizes the adhesion of physical and microbial soils and eases the cleaning of the teats before milking. Formulated with iodine, VelouCid Spray provides effective disinfection even in a difficult environment.
| Packaging | Product Code | Palletization |
| --- | --- | --- |
| 20 kg | 2276630 | 24 cans |
| 58 kg | 2276640 | 8 cans |
| 205 kg | 2276670 | 4 units |
| 975 kg | 2276790 | N/A |
Not all packages are available in all countries. Please check with your local Ecolab sales representative to confirm availability.
related Products
This is a carousel. Use Next and Previous buttons to navigate, or jump to a slide with the slide dots.