Fostering Sustainable Growth through Digital Innovation and Collaboration
Lessons from Hannover Messe 2023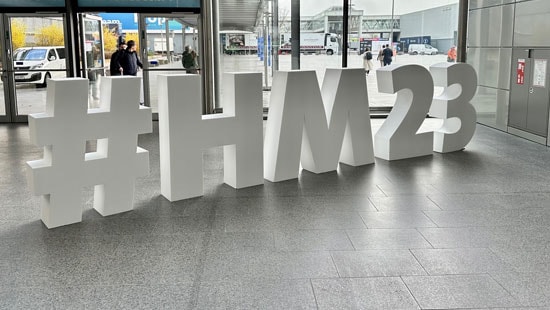 In late April, I had the privilege of representing Ecolab at Hannover Messe, one of the world's leading industrial trade shows. The event brought together professionals in Europe from across the globe to discuss groundbreaking innovations in technology. Ecolab joined Microsoft to showcase our collaborative solutions for sustainability, particularly programs that enable efficient, smart water management in more than 40 markets.


During the trade show, Ecolab had the opportunity to share the transformative potential of digital solutions to optimize water use, save energy and help companies advance on their sustainability goals. Our participation highlighted the critical role of strategic partnerships, such as our recent collaboration with Microsoft to enhance water data visibility through Microsoft Cloud for Sustainability and the ECOLAB3D™ platform.


As I reflect on the event, here are my top three take-aways, and my perspective on how they impact the future of industrial operations:
Companies are looking for strategies to operationalize their sustainability goals

It was evident that Hannover Messe visitors share a keen interest in sustainability, particularly water and energy management. Through discussions with business leaders and executives, many expressed that their companies view sustainability as an integral part of their long-term strategy rather than strictly as a regulatory obligation.



Past Ecolab research supports this perspective, suggesting that while companies set ambitious sustainability targets, many do not have operational plans or mechanisms in place to achieve them. In 2021, Ecolab collaborated with GreenBiz, a sustainability news research organization, to conduct a survey around the state of corporate water management. The survey found that out of the 93 companies interviewed, only 54% of survey respondents utilized advanced measurement tools to track progress against their water goals, and 45% felt that their organization's water would be better managed if they utilized such tools.



At the event, we focused on how digitalization, particularly within industrial water systems, can help companies operationalize their goals in an economically viable way. Access to data-driven insights helps companies identify water and energy inefficiencies, and change behavior to optimize operations at the site and enterprise levels.



Smart water management can accelerate sustainability and business benefits

The digitalization of water has transformed the way we understand and manage operational performance and sustainability. During the event, many of our discussions focused on the link between water, energy and greenhouse gas emissions. One area that garnered significant attention was our approach to smart water management. Visitors resonated with how Ecolab uses digital insights to uncover opportunities for water and energy savings, and how Ecolab combines these insights with domain expertise to capitalize on these opportunities with targeted action.

To demonstrate this, we focused on how long-standing innovations, like 3D TRASAR™ technology for water management, have evolved to bring monitoring and automation to a range of industrial applications that would otherwise be disconnected. We highlighted the connection between 3D TRASAR and ECOLAB3D, an enterprise data and analytics platform, and emphasized how ECOLAB3D-connected digital services enable real-time visibility into key water, energy and performance indicators. We also conducted a live webcast with the Ecolab Global Intelligence Center in Pune, India, one of six remote intelligence facilities delivering 24/7 performance monitoring for a variety of industries.



The ECOLAB3D platform brings an innovative edge to meet the rapidly changing needs of the industries we serve. Traditional automation and control systems are isolated, typically requiring manual data collection and processing. ECOLAB3D integrates data from multiple sources, including on-site systems like 3D TRASAR, aggregated customer data, and manual inputs from field or lab tests. The platform contextualizes the data through a variety of connected digital services, delivering insights that lead to direct, fast actions to mitigate risk, maximize productivity, and maintain sustainability goals.



Many of our conversations centered on how these digital services amplify the value delivered by our chemical innovations and on-site expertise. Smart water management was at the heart of each discussion, with visitors interested in how the combination of these technologies can address other sustainability levers, like energy and greenhouse gas emissions, along with business performance.

Embracing collaboration enables speed and scale

The event highlighted the critical role of collaboration too. Ecolab builds strategic relationships with leading organizations, like Microsoft and others, to leverage our collective strengths. This approach allows us to combine our industry reach with cutting-edge technology to accelerate the breadth and depth of our innovation. By joining Microsoft in their booth, we were able to represent the value that we can offer together to our customers.
As we look back on Hannover Messe 2023, we are excited for the opportunities ahead. It was a pleasure to engage with attendees and exhibitors from various industries to share our insights and innovations. Their enthusiasm reaffirms our belief in the transformative potential of technology to address the world's most pressing environmental challenges. Together, we can harness the power of water for sustainable business growth.
Learn more about the solutions featured at Hannover Messe 2023